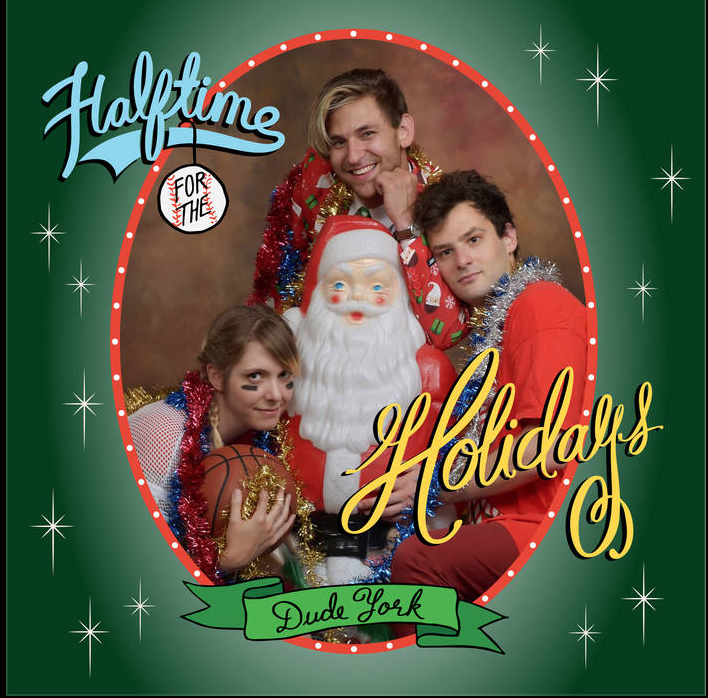 Thanksgiving has passed meaning that Christmas season is in full swing. If you are anything like me, Christmas music isn't my cup of tea per say. Personally it is probably due to hearing "Silent Night" and "Jingle Bell Rock" around 1,000 times while walking through the mall.
For those who don't enjoy the typical cheery Christmas music, Seattle based punk pop band Dude York has revamped holiday music with their alternative album Half Time for the Holidays. This album strays far from traditional and brings a modern take on the holiday season as a whole.
Half Time for the Holidays opens with an 'o so relatable' track titled "Break Up Holiday" which has subtle sounds of jingle bells (like most of the album) in the background. By incorporating the subtle sounds of jingle bells, the album feels more like a rock holiday and less like a cheery Christmas album. This track also tells the worst part about the holidays-running into an ex lover. Making this album more relatable to the generation z babies.
At times this album brings to life some sweetness especially with tracks like "The Greatest Gift is You" or "Long Distance Christmas", but in the end the album is very original. Original meaning that only Dude York could create it and pull it off.
What makes the album even more charismatic is through the utilization of the vocals between guitarist Peter Richards and bassist Clare England. Each sing equally throughout each track and the entirety of the album.
Of course the album hits on new and improved versions of "Silent Night" and "Jingle Bell Rock", but what makes Dude York so catchy is their unique sound. Basically this band sounds like a mix of Weezer and the Ramones with their punchy guitar sounds. The melodies and vocals truly kick it up a notch also.
Dude York simply has created the perfect chill rock holiday album. Half Time for The Holidays is on the other end of traditional and makes sure every holiday emotion is evoked through their sound.
The album can be streamed on Bandcamp, but most importantly Dude York is touring at the moment. On November 28th they will be stopping in Norman, Oklahoma at The Opolis for a show.